History
The bundi district was inhabited by various local tribes in ancient times. It was a princely named after a Meena tribeman called Bunda Meena. It was then called 'Bunda-Ka-Nal'. This city is situated in a narrow valley within the Aravalli Hills. It is a town with narrow lanes and temples at every turn, it has various lakes, bazaars and many Brahmin-blue houses.
Demographics of Bundi
Total Population: 104,457
Area: 5,850 sq km
Sex ratio: 922
Average literacy: 59.5 %
Major Religion: Hinduism
Languages spoken: Hindi, Rajasthani
Places to see in Bundi
Following are the tourist destinations in bundi:
1. Raniji ki Bawri
2. Chaurasi khambo ki Chhatri
3. Naval Sagar Jheel
4. Sukhmahal
5. Chitrashala
6. Jaitsagar Jheel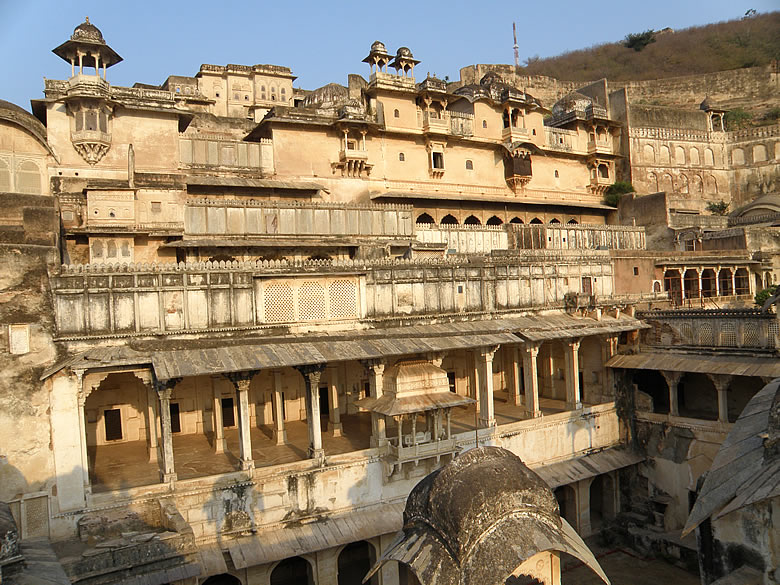 Shopping in Bundi
1. Main Bazaar: famous for wood carved items, metal wares, hand painted items and jewellery.
2. Sadar Bazaar: famous for shopping malls, restaurants and cotton carpets.
3. Chaumaukh Bazaar: famous for antique style jewelleries and cotton carpets.
Transportation 
Local Bus: There are separate buses available for different routes.
Taxi/ cab: Taxis are available throughout the city.
Auto Rickshaws: This is also a good mode of transport which is easily available.
Rental Cars: If you can spend a few extra bucks, go for a rented car and roam in ease.
How to reach Bundi
By railways:
No matter in which Indian state you are, the city of bundi is connected to major cities of the country by Indian Railways via Bundi Railway Station
By roadways:
Thanks to the national highway connectivity, Bus or private vehicle from different parts of the country.
By Air:
If you can manage to spend some extra bucks you can reach here by airways too. There are number of flights throughout the day to and from different Indian cities and within the state. The nearest airport is Kota and Jaipur airports which are 37km and 210 km far respectviely.